Cardiovascular Disease Clinic Cost
Manage and treat cardiovascular diseases, arthritis and other inflammatory issues with the expert team at Ceric. Book your consultation today.
Free Online Consultation!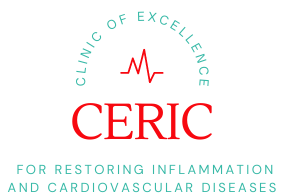 Free Online Consultation - We Respond Within 24 Hours
You might worry that the cost of cardiovascular disease clinic services is out of your realm and that you're destined to live in pain. It's not true. At Ceric's cardiovascular disease clinic we offer affordable, long-term solutions.
Whether you want to find out more about a vitamin drip price, an anti-inflammatory diet or overall cardiovascular disease clinic fees and services, we're here to help. Request a quote or callback today and we'll get back to you within 24 hours, and begin your journey towards a healthier and less painful quality of life.
Inflammation is known to play a role in strokes and heart attacks. High cholesterol, high blood pressure and overall aches and pains all contribute to poor health. But we can help you. Our team of wellness and medical experts are here to work with you to create a personalised plan.
Find Out What Our Patients Say
Price Of Cardiovascular Disease Clinic Can't Be Beat!
The team helped me discover the cause of my chronic inflammation and now with my bespoke plan, I can keep cardiovascular disease at bay. I feel great and it hasn't left me out of pocket.
Gout, arthritis, IBS, it all runs in my family and I wanted a long-term treatment to help me manage mine. Thanks to Ceric, it's all under control.
I was in the early stages of rheumatoid arthritis and thanks to the cardiovascular clinic, I'm able to manage inflammation and keep aches to a minimum.
Affordable, Long-Term Solutions
Expert medical and wellness team
The price of cardiovascular disease clinic visits far outweigh the pain and inflammation that's upsetting your lifestyle. We provide affordable, professional and long-term solutions. From dietary and exercise changes to medical aid, we're here to help you say goodbye to sore, stiff joints, fatigue and potential heart disease. Request a free consultation with our team today.